Blog
True love for great sound unites us. 
Courtney Taylor
World-renowned two-time Grammy-nominated recording engineer Courtney Taylor is also an extraordinary producer and FOH specialist, who has worked with artists like Pharrell Williams, N.E.R.D, Robin Thicke, A$AP Rocky, and many more.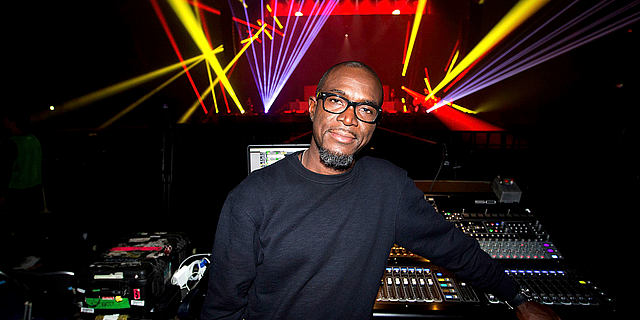 World-renowned two-time Grammy-nominated recording engineer Courtney Taylor is also an extraordinary producer and FOH specialist. Taylor has worked with the legendary reggae bands Third World, Steel Pulse, Stephen Marley, Inner Circle, and SOJA, as well as with US-based artists Pharrell Williams, N.E.R.D, Robin Thicke, A$AP Rocky, Sevendust, Common, Cris Cab, Far East Movement, Brian McKnight, Grover Washington Jr., Tinie Tempah, Danny Brown, various jazz acts, and many more.
We recently met Courtney and talked with him about his experiences with LEWITT microphones.
[LEWITT] Tell us about your mixing philosophy and the role that microphones play in it…
[Courtney Taylor] I've built a reputation for having great drum sounds. The bands I've worked with know how my drum mixes just shine. Having great microphones like the ones from LEWITT means that I have better tools that really make my drum kits stand out and shine in the mix. My mixing philosophy is based on the idea of "what you put in is what you get out." So by choosing the right mics to capture all of those nuances and characteristics, you can achieve an altogether better outcome. Picking the correct mic for the correct source or application can help prevent phasing, imaging, and tone issues – so it does does help you to do a better job as an audio engineer. 
[LEWITT] Speaking of the right mic for the right application, which LEWITT mics are you using for which sources, and what are you looking for in the sound of a microphone?
[Courtney Taylor] I absolutely love the LCT 550s on my drum kit. They capture the tones of the drums beautifully – in a way that other large-diaphragm condensers don't. The LCT 240 has replaced my AKG 451 on hi-hats, and it gives the hi-hats a nice, smooth, open sound that's music to my ears. The LCT 240 is my go-to hi-hat mic for any musical genre. For hip hop, I use my MTP 440 DM on snare top, with the LCT 240 on the bottom. The combination of these two lets the snare drum cut through in the mix and provides true separation. Listening to the drums in the mix, they sound so natural – not hyped or scooped. In my world, NATURAL IS A GOOD THING.
The DTP 640 REX kick drum mic is, in a word, awesome. This dual-element microphone has opened up new possibilities for me, and it gives me the low thump and the attack that I'm looking for in a kick drum mic. I also use the DTP 640 REX on 18" floor toms. Once a room is well tuned and my drums are also well tuned, it's like thunder! I must just be able to push up my fader and hear the true characteristics and tone of the drums without boosting EQs to compensate. LEWITT microphones allow me to achieve that. What I look for in a microphone is a natural sound with transparency, no coloration, and the ability to capture all the nuances I'm looking for. That's why I choose LEWITT microphones – because they get the job done.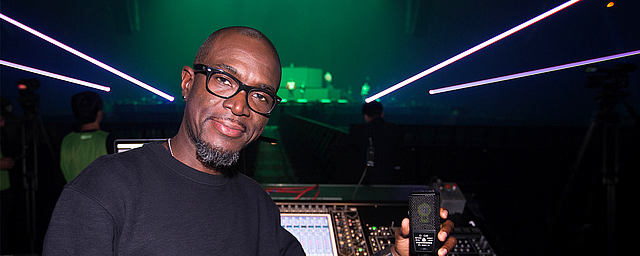 On the production side, no matter whether in the studio or on tour, there are times where I want to capture ambient or new sounds from the environment. It could be leaves rustling, or water swirling in a brook, or a door slamming around me – or I want to record my live shows. And for all that, I choose the DGT 450 USB microphone. I always have the DGT 450 in my bag no matter where I go, 'cause I never know when inspirations will hit me, so it's always kept at the ready. When I'm outdoors, I just plug it into my iPhone. If I'm in a hotel room where I need to do voice overdubs, etc., I plug it into my laptop. The sound that the DGT 450 captures is amazing: what you hear is what you get on the recording.
[LEWITT] What projects have you done with the LEWITT microphones?
[Courtney Taylor] I've done projects with A$AP Rocky, Brian McKnight, Cris Cab, Common, Far East Movement, and SOJA using LEWITT microphones. When performing live, you only have one chance to get it right, so having microphones that help prevent problems are essential – and that means that, for me, there's no choice but LEWITT microphones. I call my LEWITT mics "The Fatso of all microphones" – fat, warm, and transparent. I don't leave home without them. 
---