Blog
True love for great sound unites us.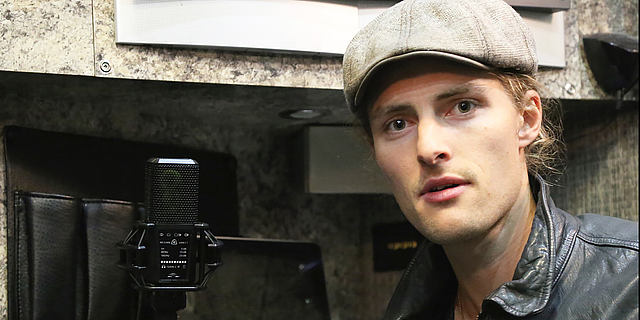 Kit French is an original recording and performing member of pop rock band Parachute, who hail from the college town of Charlottesville, Virginia. They've been touring and promoting their music since 2006. They released their major-label debut album Losing Sleep in 2009 and their second album The Way It Was in 2011. The band's third album, Overnight, was released in 2013. Nearly a decade has passed since Parachute formed and Christopher "Kit" French admits there is a lot of hard work that has went into making the band last. In 2016, Parachute released Wide Awake, their fourth full-length album and their first on Vanguard Records. While the label itself is independent, it's owned by Concord Bicycle Group – which also has Paul McCartney and the catalog of Frank Sinatra on its roster. 
LEWITT met Parachute keyboarder and saxophonist Kit French on tour and talked with him about touring life, the songwriting process, and his experiences with the DGT 650.
[LEWITT] Can you tell us a bit about what Parachute's up to now?
[Kit French] We're here in Atlanta and started touring a few days ago, and it's been an awesome experience so far. I play keys and sax in Parachute, and we'll be on the road for another three or four weeks. It's going to be a really fun round for us. We're able to play some of the new songs we've thrown together with our latest album Wide Awake and a couple of new songs we actually didn't even get to play on our own headlining tour earlier this year. You always kind of adjust your setlist based on the audience you're playing to. So we were playing a couple of songs we thought might fit better with these guys, and it's actually a lot of fun!
[LEWITT] What can you tell us about the songwriting process?
[Kit French] For us, as far as songwriting goes, Will is the primary songwriter and comes up with the skeleton, so to speak, the core subject matter in terms of lyrics, the whole concept of where the song should go, and then we just kind of get together and throw all the parts on top of it –the candy, the meat-and-potatoes [laughs] – just kind of making it a Parachute song from the original kind of core state that it starts out in.
[LEWITT] When you guys do that, do you always go to a recording studio, or do you use a mobile solution?
[Kit French] The three of us – Johnny, Will and I – we couldn't be more spread out. I live in Los Angeles, Will has lived in Nashville for the past 6 years and is up in New York now, and Johnny lives in Richmond. We do sometimes get together, especially when we're on tour, and we'll mess around with ideas. But most of the time, a lot of it happens remotely: you know, Will sends me some ideas or sends me a song, and then we put whatever we're thinking into it. Nothing's critical at this stage, because later, you can go back and take stuff out. But yeah, a lot of this gets done remotely – and that's where we really started to enjoy using the DGT 650 USB mic.
It's such an easy-to-use system, and it works really well – which is really important to me. I've been able to use it a lot at home. I can use it for horns, I can just use it as a line input for my keyboards, or I can sing into it – so it's actually a really fun thing to have. Having all these modes is a great thing; I use the Singer/Songwriter mode when I have an idea I want to throw down quickly, and the Stereo mode is another feature that just makes things so easy for me.
[LEWITT] Do you use the mic with a PC or a Mac?
I use a Mac and Logic, mainly, and from time to time I use the DGT 650 to mic my Leslie cabinet that I take out on the road (to use with my organ, obviously), so it has seen some live tour use, too.
[LEWITT] What do you think about its audio fidelity?
It sounds great – I mean, it's rich in tone and it has everything I'm looking for, since you can use it for a bunch of different things, which is what's really cool. Like recording live parts: we put together that live EP recently, and some of that audio we had to kind of redo, so we used the DGT 650 to redo some of the organ parts: sometimes there was a little bleed-over on the recordings, for whatever reason, so we used the DGT 650 to kind of clean everything up. 
I'm using it on tour, I'm using it at home, it's a rugged product that's built to last, and I've had great experiences with it so far – especially in terms of its versatility and what it can handle. For working on the fly, there are plug-and-play-type setups, and you can also sit down and really get into it, with all the different features. I think it's a really good product, and I'm very happy I got it. 
Links
---