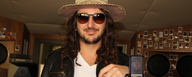 LEWITT and One Direction
LEWITT + Julian Bunetta = 27x Platin
LEWITT has received the coveted distinction of being the microphone brand of choice to record what has been the #1 album in over 37 countries so far: One Direction's "Midnight Memories"! Official LEWITT Endorser Julian Bunetta produced or co-produced 13 of the album's 18 songs, including the hit singles, is key musician throughout the album and Co-Executive Producer along with Simon Cowell.
Julian Bunetta about his work on "Midnight Memories": 
"LEWITT microphones were a very important part of the recording process of One Directions 'Midnight Memories' album. They really helped shape the sound of the record. I produced / co-produced 13 of the 18 songs and LEWITT mics were used on every single one of the songs I produced. Vocals, Drums, Guitars... you name it. I feel like these mics can capture any sound I want to achieve ... whether it's fat and warm, or dirty and aggressive.
Here are some of my best examples of LEWITT's sonic brilliance on the Midnight Memories album: The drum sounds on 'Midnight Memories' and 'Little Black Dress'; same LEWITT microphones, but huge sonic diversity. For 'Midnight Memories', the pre-chorus and the chorus live drums are being supplemented by electronic samples to make the production sound very modern. But in the verses, what you are hearing is pure live drum kit using LEWITT mics ONLY. The DTP 640 REX is a monster on the kick and one of my favorite mics that LEWITT has ever made.
I really love the acoustic guitar sound on the song "You & I". It sets the whole vibe of the record immediately. Very warm and inviting. I used a simple combination of the LCT 340 through an api 512c and an LCT 540 through a neve1073.  
The background vocal sound on "Story of My Life" is also another standout moment for me. On the first pre-chorus when the "ooh's" come in, there is so much space and it feels so lush. That was obviously the LCT 640.
LEWITT mics offer me a diversity and quality that I have not found anywhere else. They allow me to manipulate sound any way I want. With Lewitt mics, there are no boundaries!" 
Julian endorsed LEWITT from the early beginnings and has become a very influential rising music industry mogul in his own right. In addition to partnering with Cowell on several major projects, Julian remains an in-demand producer and music impresario whose vaunted services are sought by a number of major record labels.
We can conjure no higher qualifying yard stick by which LEWITT products to be validated than the distinction we enjoy of being the primary microphones used to record what seams to be the hottest recording act on the planet presently. A stellar testimony this is indeed, particularly when one considers the recording/production budget largess associated with such a major recording project on which every "money-is-no-object" microphone ever made was made available for the using
Find out more about Julians experiences with LEWITT mics:
---
Related products
DTP 640 REX
Dynamic and condenser capsule in one housing
Separate outputs for both capsules
For kick drum and other bass-heavy sources
Three switchable sound characteristics
Cardioid polar pattern
LCT 340
Extremely precise sound reproduction
For sophisticated instrument recordings
Low-cut and pre-attenuation
Interchangeable capsules, cardioid or omni (optional)
---
More stories