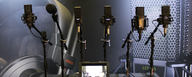 LEWITT at the 141st AES Convention
Test the LCT 640 TS!
At the 141th AES Convention you had the chance to discover a tremendous number of innovative new products and promising solutions. LEWITT once again threw itself into the cheerful fray together with US distribution partner AM&S to present the LCT 640 TS.
Some of our endorsers stopped by Booth 511 and celebrated with us the launch of the new LCT 640 TS, an all-round studio mic of extraordinary quality. This multi-pattern large-diaphragm condenser microphone makes it possible to adjust the polar pattern post-recording – a concept with the potential to transform how we think about postproduction.
Set to Dual Output mode, the microphone's front and back diaphragm follow two independent circuitries. Any polar pattern can be created such as omni, wide cardioid, cardioid, supercardioid, figure-8 and everything in between - before and after the recording. Already recorded material can be changed dynamically by adjusting the polar pattern, room sound can be added or subtracted, even turning the microphone's directivity by 180° is possible. Also recording Mid Side stereo with only one LCT 640 TS is easy in Dual Output Mode - this is usually only possible with two microphones. The polar pattern can be set and changed with LEWITT's Polarizer plug-in right within the DAW with incredible ease of use. In Single Output Mode the LCT 640 TS has all the well-known characteristics of a studio multi-pattern condenser microphone. Equipped with LEWITT's Perfect Match technology any two LCT 640 TS will always form a matched pair. Clipping History, 4 low-cut and pre-attenuation settings round off the outstanding feature list of the LCT 640 TS.
Official LEWITT endorser Jason La Rocca checked out the LCT 640 TS at AES.
Alongside the new LCT 640 TS you also had the opportunity to test some of the other flagships of the LEWITT product range, like the LCT 940 that unifies the specific characteristics of a premium large-diaphragm FET condenser microphone and a top-notch tube microphone. "Tube" delivers warmth and musical harmonics, while "FET" stands for the clear and nuanced sound for which LEWITT condenser microphones are renowned for. Use the Tube // FET blend control and find your ideal mix.
Furthermore you could try out the first and only large diaphragm studio microphone ever to achieve 0 dB (A) self-noise from electronics and circuitry - the LCT 550. Its superior dynamic range guarantees the best-possible results even in challenging situations and the unique zero self-noise architecture allows to capture extremely weak signals with great precision and detail.
For everyone who missed the chance to test some of the best and most innovative microphones at the market right now - we looking forward to meet you at the Winter NAMM in Los Angeles!
Links
---
Related products
LCT 640 TS
Full, crisp, and well-balanced sound
Revolutionary Dual Output Mode
POLARIZER plugin to create any pattern after the fact
Stereo capabilities
Multi-pattern design
LCT 940
Blend tube and FET circuit at any ratio
Studio centrepiece
12AX7 tube
Remote control and power supply in one
Multi-pattern design
---
More stories