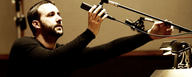 Once Upon a Time
LEWITT Fairy Tale Hour
Mark Isham and Jason LaRocca just sent us a brief sample from the soundtrack to the successful series Once Upon a Time. According to Jason, it's especially the strings that benefit from the LCT 640; in the example here, the LEWITTs were used to record all the cellos.
The TV series Once Upon a Time is produced by ABC Studios for US television network ABC. The idea for this fantasy series came from the makers of the TV series Lost, and in the US, it's both achieved fantastic ratings and built up a large fan base. A total of 9.45 million people tuned in to watch the final episode of the second season this spring on ABC. The third season, which begins this fall, is being impatiently awaited in America, with nearly 2.9 million Facebook fans busily discussing the plotline and breaking news on their favorite characters.
Mark Isham, composer of the OUAT soundtrack, has been an official LEWITT endorser since 2012. Mark has won a Grammy and has been nominated for numerous other additional Grammys, Emmys and Clio Awards, and he's well known for creating one-of-a-kind musical backdrops for movies and television series. In 2012, he also received an ASCAP award for his 25-part Once Upon a Time soundtrack, on which numerous LEWITT microphones were used.
Jason LaRocca is known in Hollywood as the well-booked recording engineer and sound mixer who recorded the soundtracks to CSI: Miami, Vampire Diaries and Crash. He's likewise an official LEWITT endorser, and it was he who recorded the orchestral parts for Once Upon a Time. Jason says that in the example here, the sound of the cellos played an
especially crucial role - and he let us know right away how he fared recording the soundtrack with his LEWITT equipment:
"I've been using exclusively the LEWITT LCT 640's to mic the cello section of the orchestra for my recordings on ABC's Once Upon a Time. They have a wonderful detail to them and bring out the top end of the celli perfectly, without the need for any EQ at all, and at the same time without sounding thin. The 640's beat out all the other mics I'd tried in this application! I love them!"
---
Related products
---
More stories