Blog
True love for great sound unites us.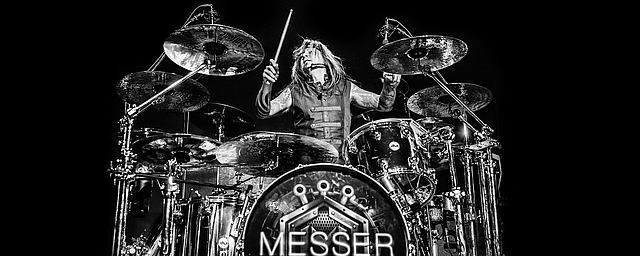 Messer. It's a band whose personality is perfectly encapsulated by their motto: "rock that meets individuality with a side of kick your ass!" Hailing from Dallas, Texas, Messer began taking shape back in 2009. Their lineup consists of a combination of musical veterans such as lead guitarist Javier Contreras, who used to play for the Jägermeister-sponsored band Mudflap. Kenn Youngar, Messer's drummer, had previously spent seven years with his band Strangleweed. Messer's bassist Maddox had formed a band called Forever Sunday in 2004. Messer's rhythm guitarist is Donnie Deville. And finally, topping off this collection of talents, veteran front-man Dereak Messer had formed a band back in the late 90's called July Alley that caught the ear of Nick Terzo from Columbia Records – who was also the one who signed a little-known band by the name of Alice In Chains. After July Alley came to an end, Dereak – being no stranger to achievement, nor to brushing shoulders with fame in the industry – was then offered a chance to sing for Alice In Chains during Layne Stayley's stint in rehab, and he also had the honor of being approached to sing for Slash's Snakepit. And as if that weren't enough, the legendary (and later tragically murdered) guitar player Dimebag Darrel approached Dereak to front the project "Damageplan," which he was putting together at the time. But ultimately, after all was said and done, these five musicians found their permanent home with Messer. And ever since, they've been building a band of new modern rock that blurs the line between nostalgia and modern art, leaving the listener with a sound that's at once familiar and new.
This year will see Messer release a new album, so we caught up with Kenn to talk a bit about their recording process.
[LEWITT] Tell us a little bit about Messer and what you're doing with the band?
[Kenn Youngar] Well actually, you've caught us at a good time. We've been recording for the last four years with Chad Gendason at the Silver Lake Pro Studios in L.A., with additional vocal recording sessions here in Dallas at our Messatory Studio. So now, all the hard work we put into this record is finally coming to fruition – basically, the record will be mastered over the next few months. And we'll be going back on the road soon, since we've been locked up in the studio for the past four years now.
[LEWITT] Four years is quite a long time to be locked up in the studio. So tell us: what exactly have you been doing there?
[Kenn Youngar] It kind of started in 2012, when we did a cross-Canada tour with Black Label Society and Protest the Hero. We learned a lot from going out with other bands at that level, when we were still kind of green on international tours and we were lucky that someone that big accepted us as opener.
But when we came off the road, we knew that we had to reevaluate our live playing – and we also kind of reevaluated our sound, just from having learned so much through the other bands. So we decided to stop playing live to turn our whole focus inward, without worrying about the next show. We really needed to concentrate on writing a full record, because at that time, we had just two songs that were at the level that we wanted. So we basically shut ourselves in and did almost no shows, apart from a couple to test our new gear. You know, we've been going to NAMM every year to see what new stuff is coming out. That's also how we found out about LEWITT microphones and some other great products. We wanted to develop a sound that's exactly like what's on the CD. We used the LEWITT mics for our rehearsals and recordings, and then, we basically started focusing on our live performance, so it was a lot of experimentation with equipment for our bass, guitar, and drums, and all that was not only easy to set up but also sounded good.
[LEWITT] On the new album, you used the DTP Beat Kit Pro 7. What's your experience with our drum microphones been like?
[Kenn Youngar] When we started using the LEWITT drum mics, we were surprised by how awesome the clarity was. Our producer, who'd worked with all kinds of microphones throughout the years but hadn't worked with LEWITT microphones before, was blown away by the overheads – everybody was. That was the first thing we took a liking to. I've got 15 cymbals, and getting a sound that's not wishy-washy is not so easy, but these LCT 340 pencil condenser mics gave me the clarity I needed and also had that sweet spot. My drum kit's actually huge, so I bought another DTP Beat Kit Pro 7 – and since we've had the 4 matched LEWITT LCT 340 overhead mics, the brass sounds amazing. Honestly, these are the best mics we've had so far. Their sound and versatility are unbeatable.
[LEWITT] What exactly do you like about the LEWITT microphones?
[Kenn Youngar] The DTP 640 REX dual-element kick drum mic is great, because it's two microphones in one housing and sounds amazing. The other LEWITT mics on my kit are also cool; we leave those set up at all times, and we've never had any issues. And they're also great on the road.
My snare is amazing – it's actually the only non-Hudson custom drum that I'm using: it's a Pearl snare, 14 x 8.5 inches, mahogany. The cool thing with that is that we mic it from the top and the bottom, using MTP 440 DM snare mics in both places. This microphone lets us get the attack on top, and its sensitivity is great on the bottom.
I'm using the DTP 340 TT's on my toms. And actually, I've had two other engineers ask me what mic I'm using, because they said that the toms sounded like kick drums with their warmth, pressure, dynamics, and clarity. I'm a big fan of John Bonham and of big drums, and with these microphones, it's a lot easier to add high-end, but they also pick up the warmth of the low-end, and what you end up getting is a huge drum sound. I don't use anything in the 12" or 13" range, 'cause everything is bigger here in Texas.
[LEWITT] And what do you think about your LCT 340 pencil condensers?
[Kenn Youngar] There's definitely no way we'd go back to anything else! Both our FOH engineer and our producer now swear by them.
[LEWITT] Any final words about LEWITT?
[Kenn Youngar] Obviously, the production quality of LEWITT is incredible. And with the company backing its products the way it does, I really haven't seen any negativity on these microphones at all. The packaging is incredible – it comes in a great flight case. And you can just tell by the way these microphones are designed and built that a lot of thought has gone into them. The electronics are incredible, and it seems like LEWITT cuts no corners at all in what they do.
Photocredits: Ronnie Jackson Photography
Links
---