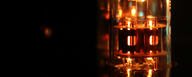 Project 1040 sound preference survey
Remember that one time we asked you to participate in a sound preference survey? Well, now we can tell you what it was about.
We are always working to change the status quo of microphone designs. That's why it is essential for us to have audio engineers, producers, and musicians on board early when developing a new product.
This time we wanted to take it one step further and have as many of you on board as possible. That's why we've invited you all to help us to shape the sound of our new flagship product which is currently in development.
The survey ran from 16.07.2019 until 31.08.2019, and we've collected 2.530 entries in total.