Blog
True love for great sound unites us. 
Review LCT 441 FLEX by Andrea Rocca on Gearspace
Andrea Rocca posted a very revealing LCT 441 FLEX review on Gearspace feat. a variety of sound samples.
Andrea Rocca posted a very revealing LCT 441 FLEX review on Gearspace feat. a variety of sound samples:
The LCT 441 FLEX is LEWITT's latest large diaphragm condenser microphone, squarely aimed the mid-level section of what is by now a very crowded and competitive market. Like all other LEWITT numbers, it is not meant to imitate the voicing or the styling of a coveted vintage mic but it is a thoroughly modern design that aims to provide the best possible sound quality and performance for the money. The FLEX in the name refers to the unusually vast amount of polar patterns available at the push of two buttons. 
We have, going clockwise from the bottom: Cardioid, Wide Cardioid, Omni, Reverse Wide Cardioid, Reverse Cardioid, Supercardioid, Figure of 8 and Reverse Supercardioid – quite a few more than normally available on most multi-pattern mics, and with a few unusual choices that might leave some confused. The reversed polar patterns are surprising but can be genuinely useful in a number of ways: you can switch the mic from, say, overhead to room duty at the touch of a button, or when close micing a cab you can have the display and buttons pointing towards you, which makes it much simpler to check it's status at a glance.
I also found it useful to use the reverse cardioid pattern when recording backing vocals: it gives you a more hollow, roomy sound that seats easily behind the main vocal - and the singer doesn't have to go through the humiliation of doing a take through the back of the mic. 
To the luddites, I can hear you, who are already saying that every other microphone has this capability if you just flip it around my answer would be that you obviously have never attempted doing that in a cramped instrumental booth, trying not to go all intimate with the drummer - and in the process displacing the position of other microphones that were working just fine…
In terms of build quality, the LCT 441 FLEX is rock solid, with a monolithic zinc alloy body and upper mesh from which the one-inch capsule can be seen peering. The body is shorter and stouter then all my other LEWITTs – this is a good thing for me because it makes for easier placement in confined areas.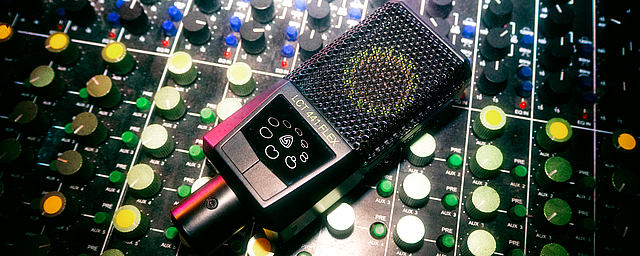 The LCT 441 FLEX is based on the design of LEWITT's record-breakingly quiet LCT 540 S (which I reviewed a few months ago). Though it doesn't feature that microphone's ultra-low self-noise, which would be impossible at this cost and probably not possible at all given the multiple patterns, the specs are very good: 144 dBSPL means that the fact that there isn't a pad will not practically matter, and a signal to noise ratio of 87 dB is more than good enough for most real-world application. The self-noise figure of 7 dB (A) is very respectable. The diaphragm is a one inch 3-micron gold sputtered Mylar thing.
The LCT 441 FLEX comes in a cardboard box, rather than the super solid military grade case that accompanies the more expensive models, but you get that excellent semi-circular shock mount (why don't they all design them like this?) and a very portable magnetic popper stopper.
There are also some familiar LEWITT extra functions: the logo turns red when the microphone clips (which with that 144 dB SPL tolerance means that everyone should run for cover because something very bad is happening) and there is a Key-lock function activated when holding any of the buttons for two seconds: the logo becomes non illuminated and the buttons become inactive until you deactivate the Key-lock by pressing again for 2 seconds.
If you mainly record yourself and you don't have any self-destructive, evil multiple personalities, you probably won't need to use the Key-lock. It could, on the other hand, come in very handy in larger sessions involving compulsive random button pushers - I've been there.
Speaking about the buttons, they feel positive and not at all spongy, with a nice firm click. It's good that they have included two rather than just a single one, because with so many choices of patterns having to constantly go "the full circle" could easily become tedious, particularly if you mistakenly overshoot.
Links
---