Blog
True love for great sound unites us.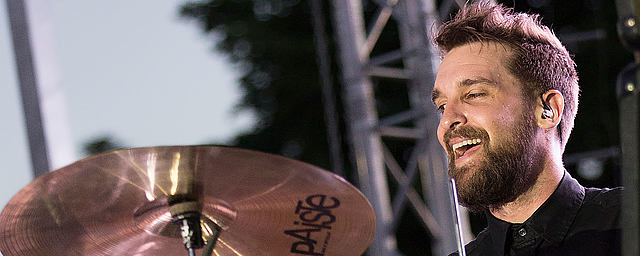 Sean Winchester is the former recording and touring drummer for the band Everclear and the current drummer of Buckcherry as well as Josh Todd and the Conflict.
Sean began drumming as a teenager and had had the opportunity to take lessons with drumming legend Zoro, and was eventually awarded a full scholarship to the prestigious Berklee College of Music. Afterwards, he worked with such artists as Arrested Development, Meat Loaf, Ziggy Marley, and Bow Wow Wow. Sean also runs his Winchester Wolf Den, where he provides high-quality drum recordings for anyone who's looking to have real drums for their next musical endeavor.
[LEWITT] Sean, what's going on in your life right now?
[Sean Winchester] Over the past five months, Josh Todd and the Conflict have been keeping me very busy – we recently got signed to the label Century Media Records, and we also released our first single, called Rain. Our debut album, Year of the Tiger, will be released on September 15th, and I'll be touring on that record for the rest of the year. The Winchester Wolf Den is also up and running, and I'm just generally having a good time.
[LEWITT] Please tell us about your experiences with LEWITT microphones and why you've chosen them…
[Sean Winchester] For both touring and recording, I use the same drum setup – which is the DTP Beat Kit Pro 7.
My relationship with LEWITT microphones goes back to when it was first announced that LEWITT was coming to the US. I was introduced to the microphones by Grammy-winning mixing engineer Bob Horn, who's mixed for artist including Brandy, Timbaland, Akon, and so on. He also mixed one of the Everclear albums I played on, called Invisible Stars. So he's an old friend of mine, and knowing that he uses these microphones himself – he has a wide variety of microphones to choose from, and he generally digs LEWITT – I had no reason not to check them out myself. Initially, when I got the microphones, I didn't know much about engineering, but I was curious to know more.
My first experience with the LEWITT microphones was on tour, and I would say that the mic that made the biggest difference there was the DTP 640 REX dual-element kick drum mic. My front of house engineer absolutely loved how the condenser and the dynamic element were perfectly in phase. His ability to mix the condenser with the dynamic side and more or less get any sound he wanted was such a big step forward for him. He loved the DTP Beat Kit Pro 7!
Later on, once I'd started the Winchester Wolf Den, I basically got schooled in engineering and my own drum recording process with LEWITT microphones. I'm very used to the sound, and I've been learning on and tuning my own ears with LEWITT microphones. So I have kind of a really cool history with the microphones. And because I starting out with a budget that wasn't exactly huge, the sound wasn't getting colored by all kinds of crazy expensive outboard gear that I couldn't have afforded. So I got to hear them as clean and true as possible.
[Sean Winchester] Before I started recording with the LEWITT mics and developing my own relationship between the way I drum and the microphones, I wasn't even sure that I was to be able to compete with what a lot of recording drummers were doing as far as getting these drum takes up to a professional level. But as soon as I started recording with the DTP Beat Kit Pro 7 and an LCT large diaphragm condenser as single overhead or room mic, I found that my recordings immediately started getting accepted for TV shows and films, and I even recorded drums for a band called Hollywood Undead – their record is coming out in October, and they're signed to a major label. So I was very happy with all that happened within the first couple of years after starting my own recording setup, and I've done it proudly and exclusively with LEWITT microphones.
[LEWITT] Any final comments you'd like to make about LEWITT?
[Sean Winchester] I'd like to say that when I spoke with the folks from LEWITT at an Artist Relations event just before NAMM last year, I loved that they have the guts and the bravery to stare in the face of an industry that prides itself on its tradition. LEWITT's engineers have basically taken that as a challenge to start a new tradition, to create new products rather than replicating all these old tried-and-true styles of microphones. They're pushing the boundaries – and as a drummer who's also looking to do the same thing, that speaks to me.
Photo Credits: Shawn Thornton
---