Albert Castiglia
"The MTP 550 DM sounds really clear, natural and transparent."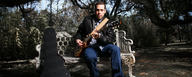 Albert Castiglia is an American blues singer, songwriter, and guitarist, and he's worked alongside artists including Junior Wells, Sandra Hall, Aron Burton, Pinetop Perkins, Melvin Taylor, Sugar Blue, Ronnie Earl, John Primer, Jerry Portnoy, Larry McCray, Eddy Clearwater, and Otis Clay.
AllMusic noted that "Castiglia combines hardcore blues with soul, rock, and country flavors for a sound that will appeal to rockers and blues purists alike." His vocal style has been compared to that of Van Morrison.
Last year, Albert Castiglia released his new album Big Dog, which charted in the top ten for most of the summer and was praised by the press as excellent, since it "brings life to older blues traditions and musical forms with contemporary, energetic musical artistry."
Albert Castiglia: "For my vocals, I use the LEWITT MTP 550 DM, which is a great microphone with a clarity to it that I haven't really experienced in other microphones – and that's been lacking in the SM 58 I've used in the past. It sounds really clear, natural and transparent, and you don't have to EQ much when you use it. I mean, I'm not very good at describing equipment, but I know what sounds good … and this mic sounds very crisp and transparent."
Watch Albert Castiglia performing Drowning At The Bottom live at Don Odells Legends Series:
---
Related content