Blog
True love for great sound unites us. 
So you found the perfect microphone and captured a great acoustic guitar recording. Now it's time to do some additional processing to bring out the best in your guitar sound and make it fit in your track. In this blog I'll break down my favorite mixing chain for acoustic guitar and how to approach each stage in your own mixes. 
The sound sample I'm using was recorded into Logic Pro with a stereo pair of LCT 140 AIRs using the XY mic technique. (Also check out the microphone placement video). These tips apply whether you record mono or stereo, and should help you achieve more clarity, dynamic control and depth in your recording. Every recording is different, so your specific EQ moves may be different than mine when working with your own tracks. 
You can check out the video about how to mix acoustic video below. 
Subtractive EQ on acoustic guitar
When I say "Problem frequencies" in acoustic guitar recordings I am referring to things like string noise, body resonance, unpleasant room tone, or a combination of these. It's important to remove these issues in the first stage of your signal chain, which will help your acoustic guitar sound more clear and balanced, ensuring better results after further processing. 
What is subtractive EQ? 

Subtractive EQ is the method of cleaning and polishing an audio signal by only cutting frequencies with an EQ, as opposed to boosting them. The typical best practice for subtractive EQ is to use it early in the signal chain to ensure problem frequencies don't get exacerbated by additional processing.  
When using subtractive EQ, try to focus your listening on the individual frequency areas of the guitar and how they interact with the rest of your mix. It's important to listen to the guitar in the context of your mix before making EQ decisions. Just because the guitar sounds good on its own doesn't mean it'll sound good in the mix.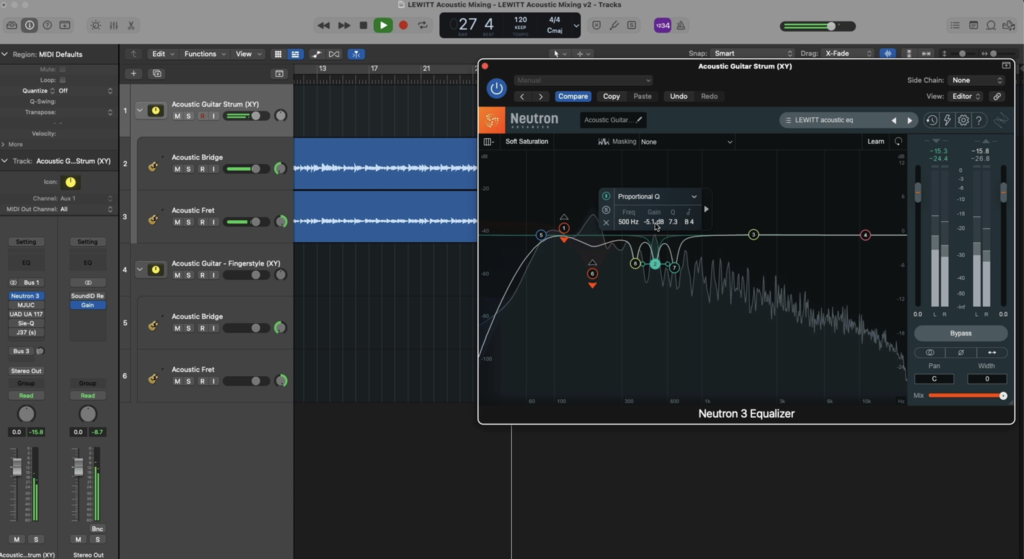 It takes some practice, but you may soon start to notice these typical frequency issues stick out: 
Low end "boom" 
Typically caused by room reverberation, body / string resonance, or proximity effect. A hi-pass filter with a moderate slope placed at 80Hz or so will often solve this problem. 
"Mud" or "boxiness" in the low midrange 
Also a result of unwanted room tone, this can be a tricky area to work with because many of the desirable resonant frequencies of the acoustic guitar exist here. There are two general areas I usually look to cut—150Hz to 300Hz to remove muddiness and 350Hz to 1kHz for room resonance and unpleasant overtones. Remember you don't need to cut anything—only the frequencies that are causing problems. In some cases you might even boost the 100-300Hz area with a broad Q in order to bring more warmth to a guitar.  
"Brittle" or "harsh" high midrange 
Your mic might pick up some overly harsh tones as a result of string squeaks. In our example we left these areas alone, but you might consider using very subtle cuts in these regions if you find your string noise to be overly harsh. A dynamic EQ can come in handy in this situation, since string noise tends to only be undesirable in certain moments, such as when the player strikes a heavy chord or transitions chords. 
"Tinny" or "metallic" high end 
In rare cases you may notice some unnatural metallic sound in the very highest frequencies. You don't want to go too crazy here, since you don't want to remove this important dimension of your instrument. But if this area needs to be addressed you can try a shelf or low pass filter with a gentle slope of 6 or 12 dB/octave between 12khz and 17khz to try and fix the issue.  
What is a dynamic EQ? 

Like a compressor, a dynamic EQ applies its processing only when the signal level crosses a set threshold. Unlike a compressor, a dynamic EQ works in the frequency domain, applying a filter to the signal rather than directly reducing the gain. This lets you create very precise EQ moves to fix problem frequencies that occur in specific moments of the material. 
Here's an example of the guitar recording before and after the subtractive EQ stage:
---