Blog
True love for great sound unites us.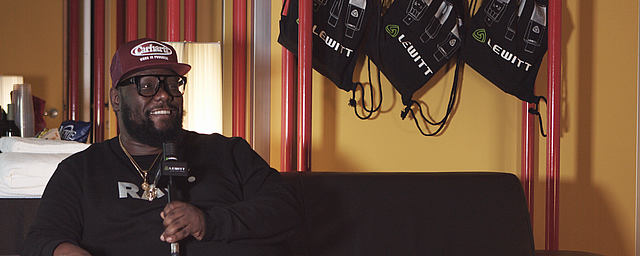 Jack King is a songwriter, producer, vocalist, and vocal specialist for major recording artists. He's toured with D'Angelo, Enrique Iglesias, and Anthony Hamilton – and since Justin Timberlake's 20/20 Experience tour, Jack's been backing up the President of Pop, as well.
We had the chance to talk with Jack King about his musical journey so far.
[LEWITT] You're not only a vocalist and vocal specialist but also a songwriter and producer. Tell us a little bit about that…
[Jack King] I did some production for Aaliyah's One in a Million album song "Giving You More" , I did some vocal productions with The Gap Band, and I worked with Charlie Wilson together on some vocal productions – an old song that they did, which was a tremendous moment for me at the time. And then I produced an entire song together with a friend for Rahsaan Patterson; it was called The One For Me, and that was a real big thing for me as well.
[LEWITT] You're also working with Justin Timberlake. How did that come about?
[Jack King] Actually, I've worked together with Justin for the past 6 years; I landed that job when Adam Blackstone called me around Christmas and told me that Justin Timberlake wanted me to come out and do some work with him for the tour, like singing background. And I said ok, and it was like: I didn't actually want to leave, but I thought to myself: "You'd better do this", it being a great opportunity and all. So I told Adam that I'd come to LA – and that was the start of these past 6 years, where we've travelled the world together. It was tremendous … Justin Timberlake took me on board with open arms, and it's been just amazing. Singing with him is awesome, like nothing else in the world. And this year, we had the opportunity to perform at the Super Bowl … which, to a singer, is the biggest stage in the world to perform on, because you have so many people that are watching you and it's just a big thing – you know, it's the Super Bowl!
[LEWITT] So you're touring with Justin Timberlake, but you're also recording – and when you do that, the LCT 940 is your mic of choice. Please tell us something about your experiences with it.
[Jack King] The LCT 940 is one of the greatest mics I've ever used because its clarity is just superb. It goes everywhere with me … because I'm at a lot of studios, but nothing compares with the clarity it puts on my voice. I absolutely love this mic.
I've also used it with a couple of other artists. Like Anthony Hamilton, and he loved it as well. And I've used it with people I do vocal coaching with – and when those people have listened to their voices through it, they've loved it, too.
[LEWITT] You also do projects while on the road: Do you take your portable studio on the road with you?
[Jack King] All the time! Because I'm always coming up with ideas and trying to flip my album up – which actually flipped into a lot of country music, too, because right now they call me Cowboy Jack – so I have to live up to that. (laughs)
[LEWITT] Tell us about Cowboy Jack – how did you get that name?
[Jack King] I had the opportunity to do a cover of the John Denver song "Thank God I'm a Country Boy" with The Tennessee Kids; that's the name of Justin Timberlake's band, the band that goes on tour with him. So we were asked to do this commercial for a Ram truck, and all of us had a part of it – but they asked me to do the lead, and everybody said: "It's your song, Jack," and I had a cowboy hat and everything. And I was Cowboy Jack – there it is, I'm a country boy, so let me live up to it…! It was my first commercial, and after a few days the video had over 20 million views. It was a tremendous moment for me – for all of us Tennessee Kids.
[LEWITT] What are you working on right now?
[Jack King] I'm working on my album as we speak, and I've ended up doing different genres in one and the same song – so you may feel that it's country, or you may feel that it's hip hop or jazz. There are a lot of influences in my music, but it all fits together … it's pretty dope. And there's also the Man of the Woods tour I'm on right now, singing with Justin Timberlake. I have a slot where I actually sing the John Denver song in the show, as well.
[LEWITT] Any final comments on LEWITT?
[Jack King] You guys make one of the best products I've ever used as a vocalist in the music industry, and I'm not just saying that. I've tried so many different mics – and there've been some mics that have worked for me – but here in my home setting, it's given me a certain quality that I've always looked for, that I've always wanted – so it's just great for me.
---