Blog
True love for great sound unites us. 
Laurence Juber
Laurence Juber, who gained his first international recognition as lead guitarist in Paul McCartney's band Wings, has since established himself as a world-renowned guitar virtuoso, composer, and arranger.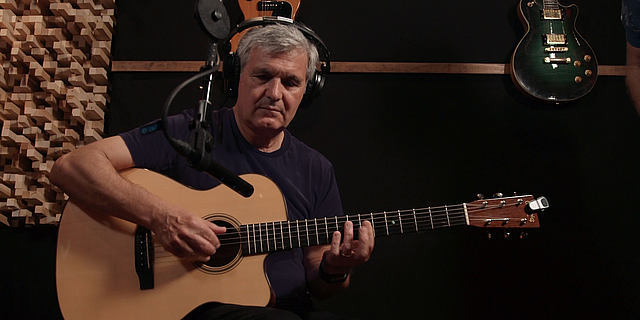 LEWITT had the chance to interview Laurence Juber at the big LEWITT microphone shootout at Echo Bar Studios, and we talked with him about the role that microphones play in his life.
Laurence, who gained his first international recognition as lead guitarist in Paul McCartney's band Wings, has since established himself as a world-renowned guitar virtuoso, composer, and arranger. 
LJ, as he's known to his fans, has released over 20 solo albums that showcase his unique touch and tone as an acoustic guitar soloist. His latest LJ Can't Stop Playing The Beatles is LJ's third collection of solo acoustic arrangements of Beatles tunes. It was produced by Hope Juber and remixed by Al Schmitt at Hollywood's Capitol Studios.
As a studio musician, he can be heard on recordings by artists as diverse as Dan Hicks & the Hot Licks, Seal, and Barry Manilow, and he's also featured on the soundtracks to hundreds of TV shows such as Home Improvement and movies including the academy award-winning Dirty Dancing, Good Will Hunting and Pocahontas.

[LEWITT] What role do microphones play in your life?
[Laurence Juber] I've spent a lot of time in front of microphones, and I've played through many different kinds of microphones in many great studios. They're an integral part of my professional life. With the acoustic guitar, there's a lot of detail that you want to capture - and LEWITT's microphones do the job. Having something cost-effective that gives you the nuance and dimension of a more expensive mic is an attractive proposition.
[LEWITT] Tell us about your favorite microphones at the shootout…
[Laurence Juber] As far as comparisons go, I thought the LCT 940 stood out - especially in its 100% tube mode, because you get that combination of the tube's warmth, clarity, definition, and dynamics. Though I actually recorded the other day with the LCT 940 in FET mode, which was great on the cello.
 
The microphone is the window onto your sound, because your first sonic look is gonna be at what comes directly out of it. So the higher the microphone's quality is, the better it'll realize the instrument or the voice. I've seen microphones that look amazing, but they don't sound that great. The LEWITT microphones, on the other hand, have a classic look and also give you a really nice window on the sound - and that's an important factor: you want the microphone to really capture as much as it can of the overall image and the instrument!
I also thought that the LCT 340 stood out pretty well. We tried a KM 84, as well, which is kind of the classic small-diaphragm Neumann mic, but the LCT 340 held its own against it. The things I'm always looking for are dynamics, clarity, and dimension. You know, I spend a lot of money on the guitar, and I've put a lot into getting it to speak right - and when that's the case, you want a microphone that captures all those nuances. So I was really quite impressed.
The challenge with microphones is that, over the years, there've been these mics that are kind of iconic, but they're extremely expensive. So how, if you've got just an entry- or medium-level budget, do you manage to record quality sound without breaking the bank? I think that the LEWITT mics give you a higher level of sonic quality while still being in that affordable category. And it's a cool thing when quality is a given and the price is easy on the pocketbook.
I also have to mention that the DGT 650 USB stereo mic with the built-in interface and headphone capability is a really cool choice for a laptop studio. Because not only is it a mic that gives you great sound, you can also plug it in to an iPhone. How cool is that!
[LEWITT] Did you enjoy the microphone shootout?
[Laurence Juber] It was just like what I do at home when I'm testing stuff out. I set up one mic and then test a bunch of different guitars or one guitar and a bunch of different mics – so it's kind of a cool way to operate, and you really get a sense of how the mics work when you just go A/B, C/D. And testing mics on headphones, where you really can't hear anything of the guitar except what you're getting through the mic, is a really good way to do it.
Links
---