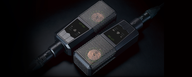 Review LCT 550
Sound On Sound
Paul White of Sound On Sound magazine wrote a revealing review of the LCT 550 cardioid-pattern condenser microphone.
Summary: "Those push-button controls, located on the live side of the mic where you can see them, are very easy to use, and the illuminated icons ensure that you make the right settings when working in poor light. Having automatic gain adjustment in the event of too much level is a novel feature that could save the day during a live recording, though having said that, things would need to get spectacularly loud indeed before it kicks in. 
As the LCT 550 is being marketed predominantly as an instrument microphone, I tried it on the acoustic guitar first, where it achieved a natural and detailed sound right from the start, even before I started trying to find the optimum microphone position. As promised, the transient handling is excellent, but that isn't to say that the microphone sounds in any way clinical, as the highs sound smooth and there's also plenty of warmth down below too — and a noticeable absence of boominess. 
Vocals also come across in a very natural way, which is always a good sign as we are keenly attuned to the sound of the human voice, so any coloration becomes very obvious. Again, there is a sense of warmth balanced by detail, with no obvious 'hyping' taking place, which should make the LCT 550 forgiving of different vocal characters. I spoke around 400mm from the microphone to avoid the proximity effect causing a false impression. A further test using a set of small bells also confirmed that this mic is hard to trip up — the sound came back very clearly with no obvious intermodulation distortion.
I have to conclude that the LCT 550 is a very capable all-rounder that delivers an honest yet musically satisfying sound in just about any recording situation you can imagine. It is extremely quiet, as the specifications imply, which means it can be used for demanding work where the sound sources are not necessarily very close to the microphone. I'm not sure that the advanced auto-attenuation feature is a necessity for most users, but it doesn't hurt to have it. While this microphone has a professional price tag it is still very reasonably priced given its fine performance."
Links
---
Related products
---
More stories